The Truth about WordPress Page Builder Plugins
A number of years ago, after having a dreadful experience with a page builder plugin called Ether Builder, I was inspired to publish this post exposing the truth about WordPress page builders. My only motivation was to share my experience and save others from going through the same problems I encountered. Of course, at the time I abhorred ALL page builders.
In 2016, with the emergence of the new WordPress page builders such as Beaver Builder, I did a 180 and wholeheartedly offer my full support. Still, no page builder is a perfect solution and I'll point out the pros and cons further down the page.
Before I move ahead, you should know I originally published this post using Ether Builder. Then, after the demise of Ether Builder I updated it using the good old WordPress text editor. Then I used Visual Composer and after that, Beaver Builder. Now, in 2022, although I still love Beaver Builder, I'm publishing this using the WordPress block editor enhanced with the Kadence block plugin. Why Kadence? Primarily because it's makes it so much easier to create rows and columns.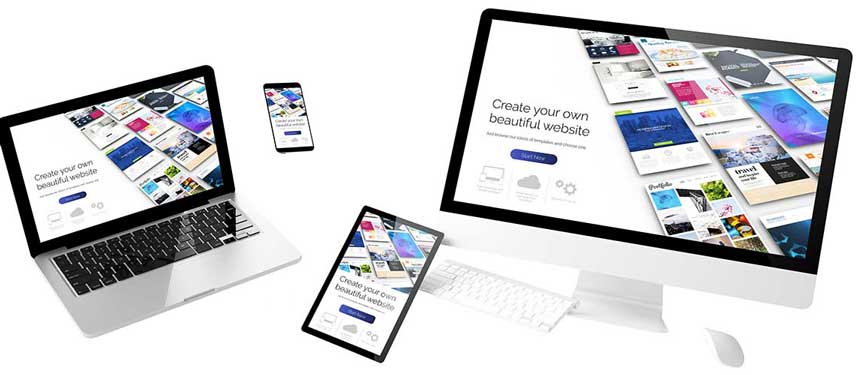 What are WordPress Page Builder Plugins?
If you have never heard of WordPress page builder plugins, this section is for you. Most WordPress page builders enable the user to structure and design the content area of their WordPress site without using code. By the content area, I mean the text edit area below the header and above the footer, where your page or post content usually goes! Typically it's as easy as dragging and dropping modules into rows and columns.
Keep in mind, no matter which page builder you choose, they do require a learning curve. This is usually not a problem since you'll find plenty of tutorials and documentation. However, in the beginning plan on spending a good amount of time training.
Although page builders are helpful for non coders, if you start selling custom website design services, you'll need to know some CSS to accomplish those tasks not covered within the page builder. When I use a page builder to create a website, I also incorporate my own CSS to fill in the missing gaps.
When to Use a Page Builder Plugin
If I'm writing a typical blog post, I would almost never use a page builder. On the other hand, if I'm building a beautiful landing page, a page builder can be helpful and make my life just a bit easier. Here in 2022, I'm using WordPress blocks to build this page. No matter what you hear, the WordPress Block editor is really just a built in page builder, but it's a pain to use and NOT anything like a good page builder.
A page builder can quickly and easily add rows and columns, and then place their desired elements within the new layout. Then, those columns and rows can be easily styled and moved around by simply dragging and dropping. Users have the ability to create different styles and design elements on every page.
CAUTION! Some people get carried away with page builders and end up with inconsistent designs and layouts on every page. This is poor design. It's best to keep our web page designs consistent throughout the website. Of course there are exceptions, but consistency is the key.
The Future of Page Builders
Page Builders have already advanced so we can now build an entire website using the same rows, columns and modules as we do for the content area. We can now do the same with the WordPress block editor. But remember, the block editor is really nothing more than another page builder. The thing is, it's behaves much differently than a page builder such as Beaver Builder. The block editor takes longer learn, and much longer to create a page. It's just not nearly as intuitive.
I believe, unless core WordPress makes drastic changes, page builders will be around for quite a long time. Some day I'll do a comparison video creating a page with the block editor and another with Beaver Builder. I'll bet I'm at least 3 times faster with Beaver Builder.
Page Builders must continue to improve their code so pages load fast. On the other hand, the block editor must be improved so it's much more intuitive, enabling us to build pages quickly and easily.
UPDATE 2022 – WordPress Block Editor
If you're familiar with WordPress, you are probably aware of the block editor previously known as Gutenberg! I've spent many hours learning nearly all there is to know about this new block editor and I can tell you four important FACTS!
After building a site using the blocks, if using a quality theme and plugins, it will perform faster than building a site with the text editor, or a good page builder.
Unless choosing a pre-made template, It will take at least 4 times longer to create a CUSTOM website using blocks!
Your frustration level will go sky high! At least for a while. Also, my clients will NEVER get it, even for simple edits!
A good page builder such as Beaver Builder is so much easier than building with blocks. It's much more intuitive and really a pleasure to work with. Although page loads are not quite as fast as those built using blocks, it ain't bad! Kudos to Beaver Builder!
This is NOT an exaggeration! A new post is coming soon!
Beaver Builder Page Builder Get it Today!
If you're looking for a solid WordPress page builder and want to avoid a long winded post, my top recommendation is the premium version of Beaver Builder. My second choice is a page builder called Oxygen.
Visual Composer (now called WPBakery) still works okay, however there are some drawbacks you won't find with the others. Although there is a lite version of Beaver Builder, I only suggest using the premium versions.
There is no free, lite version of the WPBakery page builder but the premium version is available at Codecanyon. You can find Beaver Builder using my affiliate link here.
Back to the Beginning With Page Builders
My experience with Ether Builder turned out to be a disaster when the developers basically abandoned ongoing development or updates. Even worse, the plugin remained available at Code Canyon for a long time after users began having problems. At the time, Visual Composer, (now called WP Bakery) was the best page builder on the market. The primary advantage Ether had over Visual Composer was that it did not use short codes to display content. However, VC made it easier to build more beautiful designs.
When I finally installed Visual Composer I discovered it was a pretty darn good page builder, but it's not up to par with the industry leader here in 2022. Speaking of page builders of today you should know, Elementor is filled with bloat and although it's easy to use, I CAN NOT RECOMMEND. If you want a page builder, get Beaver Builder or Oxygen. The size of the CSS and JS loaded on the front end is many times smaller with Beaver Builder.
When the Beaver Builder page builder plugin was released, it changed EVERYTHING about WordPress page builders and I'm still 100% onboard, especially for my non techie clients! If you need a new business website or you'd like Beaver Builder installed on your site, contact me and I'll build you a new site!
I Began Using Beaver Builder in 2016
I discovered Beaver Builder sometime in 2016 and quickly learned it was a far superior page builder option to WPBakery. I will say, the WPBakery functionality does work quite well, but it's no longer at the forefront of page builder development for WordPress. As of 2022, I suggest removing all page builders and use the WordPress Blocks. If you really want a page builder, go with Beaver Builder or Oxygen. Keep in mind, Oxygen is a full Website Builder and a page builder. Your theme WILL NOT work with Oxygen. Beaver Builder will do the same thing, but you'll also need the Beaver Themer plugin.
I can stand behind Beaver Builder 100%. Elementor is a decent choice but if site speed is important to you, don't do it! Beaver Builder and Oxygen are faster loading with much cleaner markup, much less bloat. The number of nested divs used by Elementor is ridiculous. The only thing that Elementor does better than the rest is marketing their product! Yep, and they are spending a ton of advertising money too!
Divi – By the way, I'm not a fan of Divi and my mom always taught me, if I don't have anything good to say, don't say anything. So, yes, I've used Divi number of times because it was already installed on a client site. Although it works okay, it cannot compete. If I had to choose between the WPBakery and Divi, I most certainly would go with WPBakery.
The Benefits of Beaver Builder

With the emergence of the Beaver Builder page builder plugin, I had a much higher opinion of page builders.The best part is, if you use Beaver Builder and later delete it, your content is still on the page. Yes, you will lose the appearance, but all the content will display. This is huge for SEO since the search engines could care less what your page looks like and is basically only interested in the html content. You can always go back and tweak things a bit using css.
Beaver Builder Support and Community Outstanding
Beaver Builder has outstanding support and the developers are first class. The code is super clean, fast and sleek! If you are one of those who like the idea of using a page builder, go with Beaver Builder! In 2016 I began subscribing to an agency license and back then used Beaver Builder on most new website projects. Also, there's a wonderful Slack channel where Beaver Builder users share information and ideas. It's a huge benefit for all.
WP Bakery Caution Note – If you delete or disable the WP Bakery page builder, the content becomes unreadable gibberish. Do not delete WPBakery until you manually copy and paste all the content you wish to keep and save it to a text document.
Advantages and Disadvantages of Using Page Builder Plugins
Page Builder Advantages
No Code Knowledge Needed: Users can create interesting and contemporary looking pages without using code.
Drag and Drop Technology: Finished your page and don't like your layout? No problem! Easily drag and drop elements to edit the page.
Apply Animations: Some page builders enable users to add cool eye catching animations to elements on a page. Use sparingly.
Can Replace Other Plugins: Most page builder plugins include multiple features, enabling users eliminate the number of plugins on their sites. Watch out for bloat!
Responsive Design: Nowadays, most page builder plugins claim to be responsive but be very careful with this. Easier said than done.
Learning and becoming proficient with any page builder plugin is quite rewarding and can open the door to simple freelance projects to earn extra income.
Page Builder Disdvantages
No Code Knowledge Needed: Problem is, page builders time to learn. It's also important to understand the basics of padding & margins. A bit of CSS is helpful for custom projects.
Drag and Drop can be Finicky: Sometimes, dragging and dropping can result in lost work. Be careful!
Animations Tricky: Takes time to experiment with the different effects.
Page Loads and File Size: Page builders will increase the size of your site, slow the back end and front end. Use the cool stuff sparingly and disable unused modules. Beaver Builder is pretty FAST! Be sure to use a caching plugin on all WordPress sites and a FAST, OPTIMIZED server.
Responsive Design Not Perfect! You will often find yourself creating rows or columns specifically for large devices, tablets or small devices.
Dependency! What happens if the page builder developers close shop or stop development? Yep, eventually your site will have to be re-built!
Is a Page Builder Plugin right for You?
If you're not a coder, the advantages of using a good page builder plugin outweigh the disadvantages. Deciding if using one is right for you will largely depend on a number of factors.
First, your comfort level with using code? If you are fluent in HTML, CSS and even Javascript, it's likely you don't need a page builder plugin. On the flip side, even if you have skills, page builders are still a quick way to whip up a quick landing page. I know a good number of developers use page builders for certain projects.
If you know very little code and want to create cool landing pages, go for it. Just keep in mind that regardless of your skill level, there is a learning curve, and you will need to devote time learning to use the plugin and developing an efficient workflow. Once you "get it," after building some nice layouts you can save them as templates and greatly speed up future page designs. You really will be able to quickly create pages you wouldn't otherwise have the ability to create.
I build WordPress websites for clients and even though most don't care to make their own edits, I install a page builder and use to create their main pages. After I launch their new site I provide them with a tutorial showing them how to make their own simple edits. So they don't ruin the website, I turn off their ability to create new rows and columns, but at least they can make simple edits.
Watch Out!
I've already mentioned it, but nearly all page builders will add bloat and increase your page load times. With Beaver Builder and Oxygen, it's still manageable, but we must all be careful with this. Keep in mind, pages built using WordPress blocks will always load much faster than those using a page builder.
Personally, I only care how pages load in real time, not how they score in Google's Core Web Vitals. If using my cell phone without a Wifi but with a decent connecting, how long does it take to load an un-cached page?
Once you install a page builder plugin and build a website with it, you have created a serious dependency! What happens to all those beautiful pages you created if the page building plugin should develop problems? What if the plugin developer decides to close it's doors? Of course, this is true with all plugins, but a page builder will impact everything! In the end you will have to re-build the website in some other way. I've had it happen to me and it will probably probably happen again. Unfortunately, this is a risk most WordPress users will take.
Want a Website With a Built In Page Builder?
So, I'm interested to know how you feel after learning the truth about WordPress page builder plugins. If you are a non coder a page builder is a huge benefit.
When I build client websites I usually include the Beaver Builder Page Builder. The only exception is if the client is 100% sure they don't want to edit their site on their own. If I know for sure they won't be editing, I skip the page builder, primarily because I can make the site run faster without a page builder by using css to do all the same effects as the page builder will do.
Contact me, Pete Gregory to discuss how I might help with your next website. [email protected]