The Truth about
WordPress Page Builder Plugins
Several years ago after having a dreadful experience with a page builder plugin called Ether Builder, I was inspired to publish this post exposing the truth about WordPress page builders. My only motivation was to share my experience and save others from going through the same problems I encountered. Of course, at the time I abhorred ALL page builders.
Now, with the emergence of the new WordPress page builders such as Beaver Builder and Elementor, I've done a 180 and wholeheartedly offer my full support. Still, no page builder is a perfect solution and I'll point out the pros and cons below.
UPDATE 2021 - WordPress Block Editor
If you're familiar with WordPress, you are probably aware of the new block editor known as Gutenberg! I've spent many hours learning nearly all there is to know about this new block editor and I can tell you four important FACTS!
After building a site using the blocks, if using a quality theme and plugins, it will perform substantially faster than building a site with the text editor, or a good page builder.
It will take at least 5 times longer to create a CUSTOM website using blocks!
Your frustration level will go sky high! Also, my clients will NEVER get it, even for simple edits!
A good page builder such as Beaver Builder is so much easier than building with blocks. It's much more intuitive and really a pleasure to work with. Although page loads are not quite as fast as those built using blocks, it ain't bad! Kudos to Beaver Builder!
This is NOT an exaggeration! A new post is coming soon!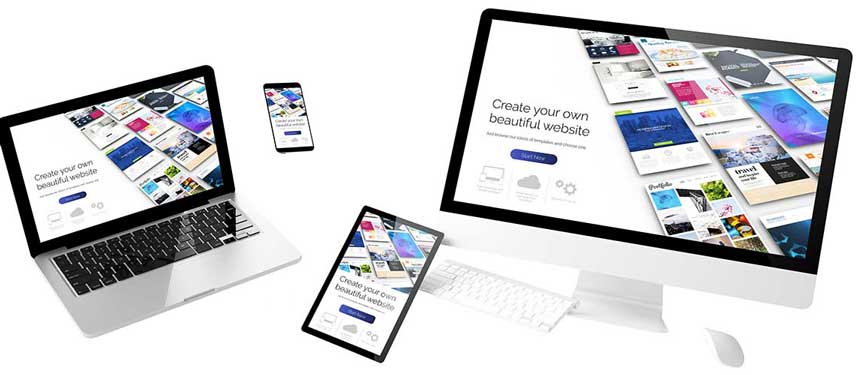 Out with the Old Page Builders
and In with the New
Before I move ahead, you should know I originally published this post using Ether Builder. Then, after the demise of Ether Builder I published it using the WordPress text editor, then Visual Composer and now finally, Beaver Builder.
My experience with Ether Builder turned out to be a disaster when the developers basically abandoned ongoing development or updates. Even worse, the plugin remained available at Code Canyon for a long time after users began having problems.
When I finally installed Visual composer I discovered it was a pretty darn good page builder, but in my view, it's not up to par with the industry leaders, Beaver Builder and Elementor.
When the Beaver Builder page builder plugin was released, it changed EVERYTHING about WordPress page builders and I'm 100% onboard, especially for my clients who have no knowledge using HTML and CSS markup!
If you need a new business website or you'd like Beaver Builder installed on your site, contact us and we'll set it up for you!
Beaver Builder Page Builder
Get it Today!
If you're looking for a solid WordPress page builder and want to avoid a long winded post, my top recommendation is the premium version of Beaver Builder. My second choice, although probably just as good, is a page builder called Elementor.
Visual Composer (now called WPBakery) is also pretty good however there are some drawbacks you won't find with Beaver Builder or Elementor. Although there is a lite version of Beaver Builder and Elementor I will only suggest using the premium versions.
There is no free, lite version of the WPBakery page builder but the premium version is available at Codecanyon. You can find Beaver Builder using my affiliate link here.
The Benefits of Beaver Builder
With the emergence of the Beaver Builder page builder plugin, I have a much higher opinion of page builders.The best part is, if you use Beaver Builder and later delete it, your content is still on the page. Yes, you will lose the structured appearance, but all the content will display. This is huge for SEO since the search engines could care less what your page looks like and is basically only interested in the html content. You can go back and tweak things a bit using css.
Beaver Builder Support and Community Outstanding
Beaver Builder has outstanding support and the developers are first class. The code is super clean, fast and sleek! If you are one of those who like the idea of using a page builder, go with Beaver Builder! Nowadays I own an agency license and using Beaver Builder on most new website projects for clients who desire the ability to quickly and easily edit their own content. Also, there's a wonderful Slack channel where Beaver Builder users share information and ideas. It's a huge benefit for all.
WP Bakery Caution Note - If you delete the WP Bakery page builder, the content becomes unreadable gibberish. For me, this is a deal buster and the reason I don't feel like WP Bakery can compete.
BEFORE DELETING: Do not delete WPBakery until you  manually copy and paste all the content you wish to keep and save it to a text document.
Advantages and Disadvantages
of Using Page Builder Plugins
No Code Knowledge Needed: Page builder users can create interesting and contemporary looking pages without using code.
Drag and Drop Technology: Finished your page and don't like your layout? No problem! Users can easily drag and drop elements to edit the page.
Apply Motions and Movements: Some page builders enable users to add cool eye catching behaviors, motions or movements to elements on a page. Still, use animations sparingly.
Can Replace Other Plugins: Most page builder plugins include multiple features, enabling users eliminate the overall number of plugins on their sites.
Responsive Design: Nowadays, most page builder plugins claim to be responsive but be very careful with this. Read their docs carefully to insure correct usage.
Learning and becoming proficient with a leading page builder plugin is quite rewarding and can open the door to simple freelance projects to earn a few extra bucks.
Page Builder Disdvantages
No Code Knowledge Needed: Even though no code is required, plugin page builders take time to learn, and yes, it can take time! It's also important you understand the concepts of padding and margins. You will need to learn a bit of CSS if you want to got to the next level.
Drag and Drop can be Finicky: Sometimes, dragging and dropping does not always work perfectly and content can be lost while dropping. Beaver Builder drags and drops fine! VC can be a bit wonky!
Motions and Movements Tricky: It's time consuming to experiment with the different features and understand the various effects. It takes time!
Page Loads and File Size: Page builders will increase the size of your site and slow the backend. Use the cool stuff sparingly and disable unused modules in the settings area.. Beaver Builder is pretty FAST! but be sure to use a caching plugin on all WordPress sites. Personally, I like WPRocket.
Responsive Design Not Perfect! You will often find yourself creating modules or rows specifically for large devices, tablets or small devices.