Web Design is Easy! Anyone Can Build FREE Website – Is This a Joke?
Web Design is easy and you can build your own custom website without hiring an expensive designer, for free! Yeah right! Is this a joke?
Lately, it seems like whatever media we happen to be viewing or listening to, we are constantly exposed to ads claiming, anyone can create their own near beautiful website, for free! I'm hearing it on my radio, seeing it on the web and even in newsprint. They would all have us believe web design is easy and anyone can do it!
The question is, can anyone really build themselves a reasonably good looking and functional website? Is web design easy enough for the average person to build their own website? Are the ads true? Then, if you really are successful with your own site, will it be found in the search results?
I can now report, based on information I'm hearing directly from those trying the platforms, the ads aren't really true, but they are not a lie either!
Do It Yourself Free Websites? Is it True?
So, is it true you can you can build your own website and that web design is easy? That's a good question and I'm going to answer it as best I can. First, I must qualify myself as a freelance web guy and pretty good with website building, with or without page builders. I'm proficient at html, css and becoming pretty darn good with php and javascript.
The True Facts
Yes, you can go to a number of different online venues to create your own websites. It's kind of like in the old days when we could go to the hobby store and get a paint by numbers kit. It still takes a lot of work to create the painting, but the end result may not be something to show off. I must preface this by saying, when it comes to web design it's more like "IF," you get to the end of the project.
Even using the most simplistic and intuitive design interface in the world, it still takes lots of time to create a site! It's not near as quick or easy as the ads would have us believe. Many do it yourself designers give it a try and end up with unattractive and/or incomplete websites. I would love to know what the percentage of customers who finished and if so, do they keep it maintained. I would not be surprised if it's under 20%!
The truth is, it's not quick or easy to build a DIY website. Very few people have the skills or the time to devote to creating something nice. Then, if you don't have any creative skills, it's going to be a problem. Even if you get past your page builder's learning curve, take all the steps and have a good understanding of the scope, you will find the process to be very time consuming. This is a fact that can never be helped. Even if you use a free, professionally designed template, it still takes lots of time to swap out al the text and image content.
WordPress has been free forever, but as all of us WordPress developers know, if you want something special it takes a lot of hard work, a good bit of knowledge and a basic understanding of design principles. Most newbies to web design haven't a clue and end up sadly disappointed!
Update Story: Web Design is Easy
Recently I agreed to help and coach a friend with her DIY website. She also had heard web design was easy and she could do it herself. She was smart enough to know she would need help and asked me to help her to get started. I began by setting her domain so it would forward to her future website location. My friend started the day with enthusiasm but ended the day discouraged.
The only thing she had to show for six hours of work was one poorly written "about" page. She did however walk away with a general idea of how the web design user interface worked. Her last words were, "maybe I'll just use the replicated content provided by the website builder." I encouraged her to create her own original content and start the site small, with five or six basic pages. She can add the rest, little by little.
So, she has a website with her own domain name. It looks a little worse than average. Because she finally decided she didn't want to devote the time, it will likely never rank anywhere near the top of the search results, for any search terms.
Had I not coached her through it, she would have NEVER made it as far as she did! But, I'm sure I gained a future custom web design client! I will be the first person she calls when she decided she wants a real website.
The truth is, you can build you own website but it's NOT easy and it takes lots of time. It also requires some decent writing and creative skills.
Web Design Made Easy With Nice Simple Template and User Interface
Even if you find a nice do it yourself design template with a simple user interface, it still takes time. Don't be fooled into thinking web design is easy.
First, you must spend some time learning the interface. Once you think you understand the basics, you start to comprehend what you might have got yourself into. Here are a list of helpful things to start thinking about before you get started:
Purchase your own domain
Preliminary website layouts
Web Safe Color schemes to consider. Matching your brand?
Font types to select
Images to find, edit and optimize. Be careful here and use creative common free images or purchase licenses.
Content to write (it doesn't write itself and if you're not a better than average writer, hire someone!
Keyword research and selection
Links to consider. How are you going to link your internal pages and posts to each other? This is extremely important for SEO.
There is much, much more!
Once there is plan in place, it's time to get started! Most do it yourself designers have no idea how long it takes to create a good looking and content rich webpage. Even if using a simple DIY interface and writing it in a standard word application. If you want good on page SEO, it takes even longer. Do you even know how to write content that at least appears professional? Do you understand basic search engine optimization?
Keep in mind, there are very few web design professionals who believe web design is easy. Because it's NOT easy, most experienced developers have a group of associates they rely on for graphics, written content, photos, video, SEO, and much more. Creating a professional custom website often requires a team of talented individuals, or one very talented freelancer.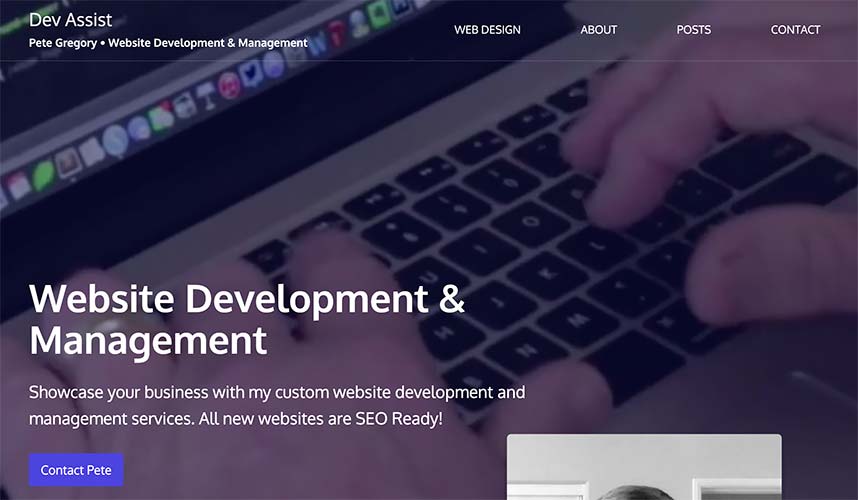 My Redesigned Website
This site you are on was my first website, but has since been re-designed and updated multiple times! The latest theme is my own custom child theme with the Kadence parent theme. Originally I did very little customization and had no idea what I was doing, and thought it would be easy! Even though my first theme came with an optional no code style manager, I discovered it still takes time to learn and comprehend. Regardless, at the time I had little experience but I was able to create my own website. I was not really proud of it, but now that I've redesigned, I'm quite happy with the results.
Sorry to Ramble – Closing Comments
Please understand, I think do it yourself websites are wonderful. I love web development no matter what, but I think it's important consumers understand what they are getting into before they devote their valuable time and money to a project.
If you think web design is easy you will eventually learn this to be false. It requires some creativity, can be quite complex and it's extremely time consuming! Most DIY's quit, and hire a freelancer like me to do it for them. What's worse, some quit and never have the website they wanted in the first place. That's just sad! We can only hope they learned something.